Our Mission Statement
The purpose of our congregations shall be to serve its members and to spread the Kingdom of God by the preaching of the Word of God, by the administration of the sacraments, and by religious instruction of youth and adults, according to the confessional standard of the Lutheran Church-Canada, East District and to foster Christian fellowship and charity. Our congregations shall be carried on without purpose of gain for its members and any profits or accreditations to the organization shall be used in promoting its objectives.
What We Believe
Scripture Alone:
The Bible is God's inspired word for salvation in Jesus Christ. It is the only source that shows God's will and the only basis of faith.
Faith Alone:
We are saved by faith that is a gift from God. Jesus has provided for our forgiveness and life; those who hear this promise and believe it will receive what it offers. People don't "get faith", rather God gives it as He gives us His promises.
Grace Alone:
God loves all people unconditionally, even though we sin in thought, word and deed. We don't deserve His love but He still offers salvation through His son, Jesus.
Women's Group
Mary Martha Society
The Mary Martha Society of the Lutheran Church of the Good Shepherd in Barrie, Ontario is a member of the Lutheran Women's Missionary League-Canada. It has been established to foster and support the program and undertaking of the Lutheran Women's Missionary League-Canada: Mission Education, Mission Inspiration, Mission Service. It does so by promoting growth in Christian knowledge; furthering a love for and helping provide for active participation in Christian service; and fostering Christian fellowship to build the Kingdom of Christ.
The Seminary Guild -
The Concordia Seminary Guild is a society that helps to support the students at the Seminary in St. Catharines. They work to link seminary students with LWML societies through the student adoption program. The guild also co-ordinates donations of food and clothing for seminary families. They hold several special days each year, Harvest Day in the fall and Guild Day in the spring. Members of the guild are able to gather together on those days to hear of the work of the guild. They also try to do special things for the seminarians at Christmas and around call day. Membership in the guild is well over 1000. The only requirement of being a member of the guild is paying a membership fee of $5.00. With this you are supporting the work of the guild and in turn the men preparing for the pastoral office.
Student Care Packages -
Each circle has the opportunity to send a care package to each one of our university students. The packages are sent two times a year to remind the students they are being prayed for and remembered.
Adopted Seminary Student -
Each year our society adopts a seminary student from the St. Catherine's seminary. We remember our student with letters, a birthday and Christmas gift, and in our prayers. Our Seminarian is also included when we send our student care packages.
Mites - Offerings
"Your Mary Martha Society collects two kinds of offerings at monthly circle meetings. The general offering collected goes to fund the operating costs of our society. It helps to pay for things like postage for care packages, desserts for funeral luncheons, coffee and table cloths, support of our seminary student, sending our delegate to convention, supplies for mission projects, gifts for shut ins, and many other worthwhile undertakings.
The second offering collected at monthly meetings is called the Mite offering. We also try to collect special mite offerings at the various Mary Martha functions and socials. LWML Mite money goes to support the district and national work programs. This includes the operating cost of the league and all the mission projects selected at conventions. Mission Projects are selected by LWML-C and its districts. They are voted on in convention by delegates representing our society. These projects are supported by our mite giving. Each mite dollar is split between national and district projects. 60% is given to the Ontario District and 40% to LWML-C to support mission projects.
Traditionally, LWML mites are thought of as the coins dropped into a mite box with the prayer that God's kingdom will be furthered. The Biblical reference to mites is found in Luke 21: 1-4 where the poor widow gave all she had to the Lord. Take the time to consider your mite giving. Remember the sacrifices of the widow and of our Lord Jesus who both gave their all.
Lutheran Resources
Lutheran Hour Ministiries
A congregational outreach ministry supporting The Lutheran Church—Missouri Synod and partnering churches worldwide. It is independently funded by generous Christians who want to spread the pure and powerful message of the Savior's love in their own communities and throughout the world. For more information, visit www.lhm.org or call 1-800-876-9880
Daily Devotions
Lutheran Hour Ministries daily devotions can be found at: www.lhm.org/dailydevotions.asp
Info Digest
News is posted regularly at www.canadianlutheran.ca Subscribe to Twitter, follow LCCInfoTweet and you will receive notification each time a new post appears on http://www.canadianlutheran.ca or www.LCContheRoad.ca
District Events
For more info, check out the East District - News ~ Notices ~ Notes (EN3) on the bulletin board, visit www.lcceast.ca or contact Ilene Fortin ilene@lcceast.ca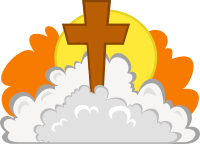 Open Arms Early Childhood Centre
Open Arms is committed to building a strong spiritual foundation in the lives of young children aged 4 weeks to 12 years. We strive to provide the best possible childcare in a loving, safe and nurturing environment. We meet the individual needs of all children and allow them to grow spiritually, cognitively, and physically.
Open Arms Early Childhood Centre provides a nurturing and caring environment so that you can have peace of mind knowing your children are safe and happy in our care. We provide this care, Monday through Friday 6:30am - 6:30pm. Open Arms also provides care for children on Professional Activity (PA) days, Christmas break, March break and throughout the summer. Contact us at 705-721-3399 or visit our website at http://www.openarmsearlychildhoodcentre.com
Martin Luther Court - Our Life Lease Community!

Martin Luther Court is a 21 unit life lease community located beside The Lutheran Church of the Good Shepherd.
For more information on these exciting one and two bedroom units located in an established, mature neighbourhood,
contact: Annemarie Sier (Sales Representative) at: 1-705-739-1300